International conferences play a key role in the Centre's commitment to the promotion of dialogue and partnership between the Islamic world and the West.
The annual Ditchley conferences explore the political, economic and cultural dimensions of relationships between Muslim societies and the West. Recent Ditchley conferences have included: US and the Islamic World; The Future of Iraq; Education and Human Development in Muslim societies; Islam and the Environment.
In addition to major conferences regular round-tables and workshops are sponsored by the Centre to bring together senior policymakers, business leaders and academics to discuss issues of contemporary importance. Recent sessions have included 'Peace and Stability in the Gulf', 'The United States and the New World Order', and 'Identity and Multi-Culturalism'. There have also been round-tables led by senior figures in national and international organisations such as DfID (the Department for International Development) and ASEAN. Discussion forums have been organised in cooperation with the Arab League and the European Commission.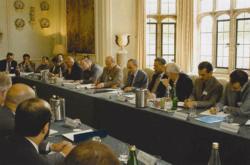 Previous Conferences