The Centre's research areas include:
classical Islamic sciences
the social and intellectual history of the Muslim world
Islamic finance (related to the social and economic development of Muslim societies) 
Muslims in Britain and the West
Public Health, Science and Technology
The Centre's current research projects include:
The Atlas Project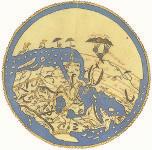 This is a major international research project concerned with the intellectual roots of Muslim civilisation and social movements in the Islamic world. It will provide a comprehensive multivolume Historical Atlas of the Islamic World. The Leverhulme Trust (UK) the Andrew W. Mellon Foundation (USA) and the Carnegie Corporation of New York (USA) have supported this project.
The Atlas is to be published by Oxford University Press (New York).
For more information click here.
Muslims in Britain
The study of Muslims in Britain remains a major focus of the Centre's academic interests. Priority is given to research which helps to understand the opportunities and challenges facing British Muslims. Seminars, workshops and roundtables are regularly organised by the Centre on a range of subjects such as: the housing needs of British Muslims, identity and political participation amongst British Muslims and the policy implications of Muslim citizens in Western Europe.
Other support for the subject (and linked to the research interest) include scholarships for British Muslim students to read for degrees (at the University of Oxford) and the Young Muslim Leadership Programme (YMLP).
For more information click here.
Islamic Finance
Research into the theory and practice of Islamic finance is being carried out in conjunction with a number of international financial institutions, policymakers and regulatory bodies such as the Securities Commission Malaysia.
Research seminars, workshops and conferences are regularly organised by the Centre on a range of topics. These include the annual Securities Commission Malaysia-Oxford Centre for Islamic Studies Roundtable on Islamic Finance (running since 2010). A SC–OCIS Visiting Fellowship in Islamic Finance programme also supports visiting scholars on an annual basis. Applicants must be specialists in Islamic Finance and/or a closely related discipline.
For more information click here.
Maldives Heritage Survey
The Maldives Heritage Survey started at the Centre and was led by Dr Michael Feener and funded by Arcadia. Its aim was to create an inventory and document endangered tangible cultural heritage in the Maldives – including mosques, Muslim grave markers, the remains of Buddhist stupas, and other historical structures and physical objects – through digital photography, 3D terrestrial scanning, and GIS to create an open-access online heritage database. Professor Feener has since moved to a chair in Kyoto University, Japan.
For more information click here.
Public Health, Science and Technology
The Centre is leading an innovative project on Public Health, Science and Technology in Muslim societies. There remains an urgent need to study the relationship between science and society in Muslim countries and to facilitate a deeper understanding of their interdependence. Within the scope of this project the Centre is adopting a holistic approach and will bring together concepts from different academic disciplines, notably from the sciences and social sciences, in order to strengthen the scholarship around this topic. The aim will be to analyse the contribution of Muslim countries to global scientific progress and to identify opportunities for new approaches and mechanisms, including of international cooperation, which might enhance that contribution.
For more information click here.